A Case Study: Sheckler Excavating
Custom > Pre-Packaged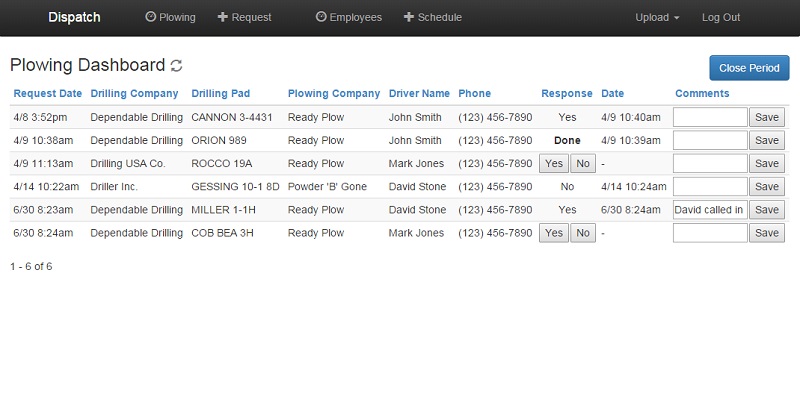 A case where custom programming alleviated a chronic problem for our customer, and saved a LOT of money over available pre-packaged products with too many unneeded features.
The Situation
A company responsible for keeping hundreds of well drilling pads accessible and clear of snow and ice needed a better way of being the "middleman" between the oil companies and the plow drivers. Snowstorms don't always arrive during business hours, so many nights were spent taking calls from oil company representatives with plowing requests, and many phone calls were being placed to plow truck drivers – and you can imagine making these middle-of-night calls to a list of sleepy drivers, then moving on to "the next guy" if there was no answer. Not to mention trying to explain to a just-awakened driver exactly where this out-in-the-middle-of-nowhere drilling pad was. After evaluating some "boxed" dispatching software, Himebaugh Consulting was contacted to evaluate the situation, and advise on feasibility and cost of custom software.
After hearing the challenges in trying to schedule and coordinate hundreds of requests at hundreds of locations – a plan was devised.
The Solution
A system was designed to make use of lists of drilling pad GPS coordinates for the oil companies and lists of the driver's cell phone numbers from the plowing companies. Now, when incoming calls were taken, our customer could use a computer to simply choose which drilling company was calling, then choose the pad location which needed service, then bring up a list of available drivers to choose from. With the click of a button, a message could be sent to the plow driver's cell phone. The message includes the GPS coordinates of the pad, and response choices of "yes" or "no" to indicate whether they could do the job or not.
This information accumulates on a Dashboard which shows all plow requests and responses from drivers. Being a web-based application means that no one has to go in to the office in the middle of the night in a snowstorm to field all of the calls, and dispatch the drivers. Additionally, the accumulation of plow requests can be "closed out" when the snow event is over, and used to invoice for all completed work.
Enhancements to the program since its inception have included the ability to send a custom message with each request, in order to inform the plow driver of special circumstances, such as needing two trucks or extra salt. Additionally, this program was modified to allow our customer to dispatch their own employees for non-snow-related work in any season.
Employee Scheduling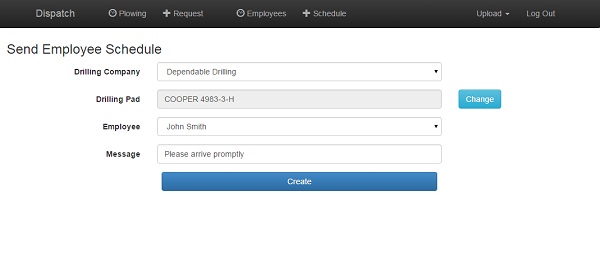 Administrative users can send schedule information to employees' phones, who can then confirm receipt of the schedule from their device.
Mobile Support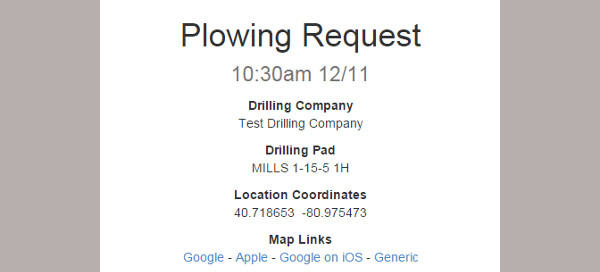 Drivers can view notifications right from their phones, with the ability to view the location of the pad location on a map.
Excel Imports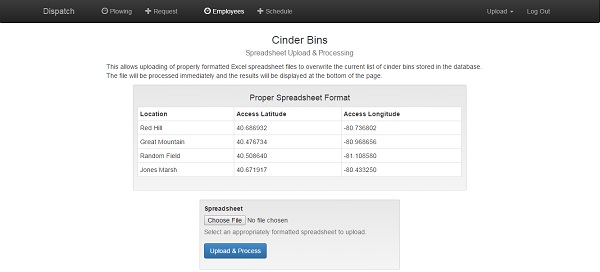 The site seamlessly integrates with preexisting spreadsheet formats to allow mass-importing of customer data.